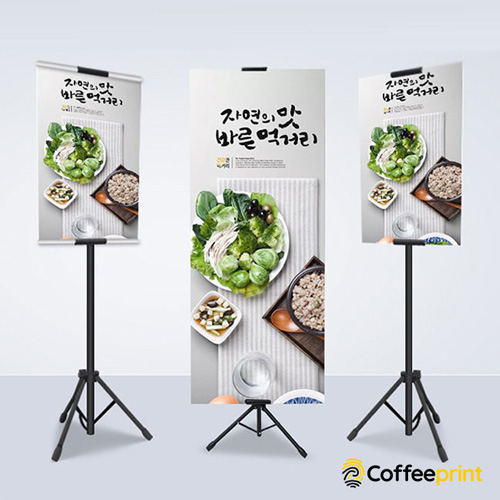 Put on the banner at a right place to make your storefront stand out.
Our lightweight, but extremely durable tarpaulin banners feature sharp printing and vibrant, eye-catching colours. The fade-resistant printing ensures your shop or stall is outstanding from far!
We offer different material for in or outdoor use. Looking for a portable and powerful product at an affordable price? Look no further.
What do you need to know?
1. Economy
380gsm tarpaulin material.
Printed with solvent ink which is not fade-resistant.
Widely applicable for outdoor use due to its economic cost.
2. Standard
380gsm tarpaulin material.
Printed with advanced UV printing technology which promises fade-resistant and sharp visual colour effect.
Suitable for an indoor location where customer tends to view at closer proximity.
3. Premium
Glossy premium photo paper material.
Printed with advanced UV printing.
This combination is perfect for customer thirst for the best quality available.
Suitable for the indoor usage upright clear view and never bends.
Designing an effective banner
Use large fonts and images
Contrast your background and text colours to increase readability
Focus on the key message for the reader to grasp within 3 seconds
Keep the safety margins in mind when you're designing – check out Artwork Specifications for detail.
---
DISCLAIMER
Each product on Coffeeprint Network website is a representation of the actual product. We attempt to display product images as accurately as possible. However, due to lighting and different devices you might be using, the color in the image may vary slightly for the actual color of the product. Please review all the images of the product you desire BEFORE placing your order. If you have any questions about any of our products please feel free to contact us by clicking the contact us link on our website. Customer satisfaction is our number one priority, and we will gladly provide more information on any of our products because, we want you to feel confident about your purchase with us at Coffeeprint Network.